Check Out Our 2020 Photo Gallery...
---
Collaborative 'At Home' Design
We design your room with you while in your own space to jointly create the kitchen of your dreams

---
Single Point
Of Contact
You will have a personal point of contact who will be with you during your complete RAISON Home experience

---
Maximum
Choice
We select from the leading manufacturers across the UK and Europe to provide unique styles and design concepts to our customers

---
Complete
Project management
We provide project management from the initial design consultation throughout the installation and on to your project completion
'At Home' Design Made Personal
The RAISON Home philosophy is to provide you with a more convenient service, built to work around your way of life not ours.
This means you get to experience and collaborate in the whole design process in the comfort of your own home, designing your ideal kitchen while in the actual room space.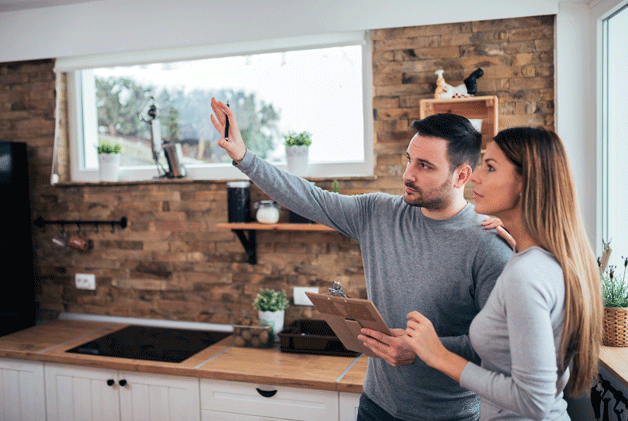 Our 'At Home' service – How does it work?
The traditional kitchen design service you may be offered is often free but you usually are expected to pre-arrange an appointment in a large busy showroom to take advantage of this, giving up your valuable time in return for only the initial stages of your kitchen design. The design you receive may or may not be what you expected and to discuss in more detail or to make changes will require further journeys and take up even more of your precious time. 
We are committed to providing you with a service that works around your way of life, providing an exclusive 'At-Home' design consultation where we work with you from selecting the styles and products you want , right through to deciding the completed layout and design features.
How we do things differently
We use the latest in technology design to create and then visualise the perfect kitchen we designed together.
We work together in the design process whilst being in your actual space not in a busy showroom with many distractions.
The kitchens we design will be unique to your needs and lifestyle taking advantage of our access to the latest styles and design ideas from across the UK and Europe.
We do not use any pressure selling techniques, we just want you to be 101% happy with your design before you agree to go ahead with the project.
Want to find out more?
---
---
Looking for an expert designer for your project? Book an initial free phone consultation to find out just how easy it can be to start working with a professional designer.
Start the journey of turning your dream kitchen into reality