Claude moves to his client's home to take the quotes, draws his first perspective by hand and includes in his quote all the appliances, furniture and installation services.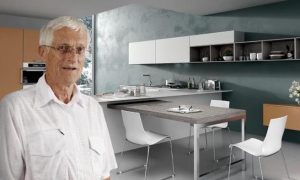 Claude's delighted client will be his best salesperson and word of mouth will continue to have an impact for a long time.
When he started selling the kitchen, Claude RAISON quickly understood two things. The first is that to do your job of "designing a kitchen" well, this requires a real discussion with the client at home and with him, and the second is that it is not necessary to have a showroom to sell kitchens. In addition, a store represents a significant fixed charge.
The exhibition kitchens will be removed from the store from 1978 because they occupied an uninteresting space and were not used in the sale of kitchens.
Claude RAISON used to say to his clients: "I hope to satisfy you at 101% because you meet 100% is simply normal! I wish to satisfy you beyond your hope because you will in turn want to please me by recommending me to those around you. "
This is the emergence of the RAISON HOME concept: the sale of kitchens without a store, only at the customer's home and based on customer satisfaction and recommendation.
There is success and the kitchen layout continues to develop. The concept of home cooking is gradually gaining ground. In 1993, cooking became his reason for living, and having freed himself from his old company, he settled alone in a sole proprietorship and without any investment. The sale of his first kitchen allows him to buy a fax and the second a photocopier….
The economic model having proven itself in the countryside and motivated by the desire to share his know-how and his passion for cooking, Claude Raison wishes to duplicate the concept in the city. He has a specific idea in mind and is studying the feasibility of his project…